Nonstop Points has partnered with CardRatings for our coverage of credit card products. Nonstop Points and CardRatings may receive a commission from card issuers. Opinions, reviews, analyses & recommendations are the author's alone, and have not been reviewed, endorsed or approved by any of these entities. This post may contain affiliate links; please read our advertiser disclosure for more information
Going into my Lufthansa A330 business class flight, I had no idea what to expect. I have heard both great things and poor things about Lufthansa's inflight experience, so I wanted to determine for myself. 
My expectations were low, and given how tired I was from not sleeping a minute in economy, due to an involuntary downgrade from business class on my flight from Washington Dulles (IAD) into Frankfurt (FRA), all I wanted was a bed in which to sleep.
This article is part of my Trip Report: Starting Summer in East Africa including:
Review: Lufthansa A330 Business Class FRA-NBO
Lufthansa Ground Experience
While no Lufthansa First Class terminal, with planeside transfers in Porsches, my experience on the ground in Frankfurt was quite pleasant. After landing, the first thing I did was head to the lounge to grab a bite to eat. I went to the business class lounge, which was nice and had solid views of the tarmac.
I met a friend in Frankfurt with whom I continued onwards to Nairobi. After his flight landed, I met him, and we checked out Lufthansa's Senator Lounge. The lounge is spacious, and while it has the same food options as the business class lounge, there is greater variety in terms of seating.
The agents in this lounge were particularly helpful and even able to process an upgrade for my friend to Premium Economy (paid, but they made it easy when the gate agent could not do so). There is also a spa, but unfortunately, one must pay for services and showers, which I did not get the chance to check out.
The only downside to the ground experience was that we were assigned a remote gate. While walking up to your plane is fun, I would consider using a jet bridge a more premium experience than lugging your suitcase up multiple flights of stairs to reach the plane's entrance.
Business Class Seat
I found the plane seat to be particularly comfortable. The issue that most people have with the seating is that they are not all aisle access. Lufthansa's A330 Business Class is configured in a 2-2-2 configuration. This means that anyone in a window seat needs to step over their neighbor to access the aisle, which is difficult if they are reclined and sleeping.
Luckily, my flight was not sold out, and right before takeoff, the passenger in the seat next to me moved across the aisle to the middle section, so neither of us had neighbors.
Upon boarding, one finds seats with a pillow, blanket, water bottle, and amenity kit, which is more than needed on a daytime flight. I found the amenities to be comfortable, although the pillow was quite slim. The amenity kits are from Porsche Design, and while not the most robust kit, I will certainly be using it as a sunglass holder in the future. There were also some amenities left in the bathroom.
While the seat has little privacy, the bulkhead has a large footwell and three windows. I was in seat 10K. This is in the bulkhead row of the mini (rear) business class cabin. There is no First Class on the A330.
The seat has all the typical controls on a shared armrest, including reclining and different adjustments. The in-flight entertainment screen is large and pops out at an angle so that it is perpendicular to your vision line.
In bed mode, while not that private, it was very comfortable, and I slept for a good portion of the 9-hour flight South.
Lufthansa Business Class Food and Beverage
I found the food options on board to be good. While I would have typically ordered a gluten-free meal ahead of my flight, this was not possible due to the last-minute swap. Instead, I ordered what I thought to be the most likely to be gluten-free options off the menu.
After boarding, I was offered a drink and had some orange juice before departure, along with them bringing out warm towels.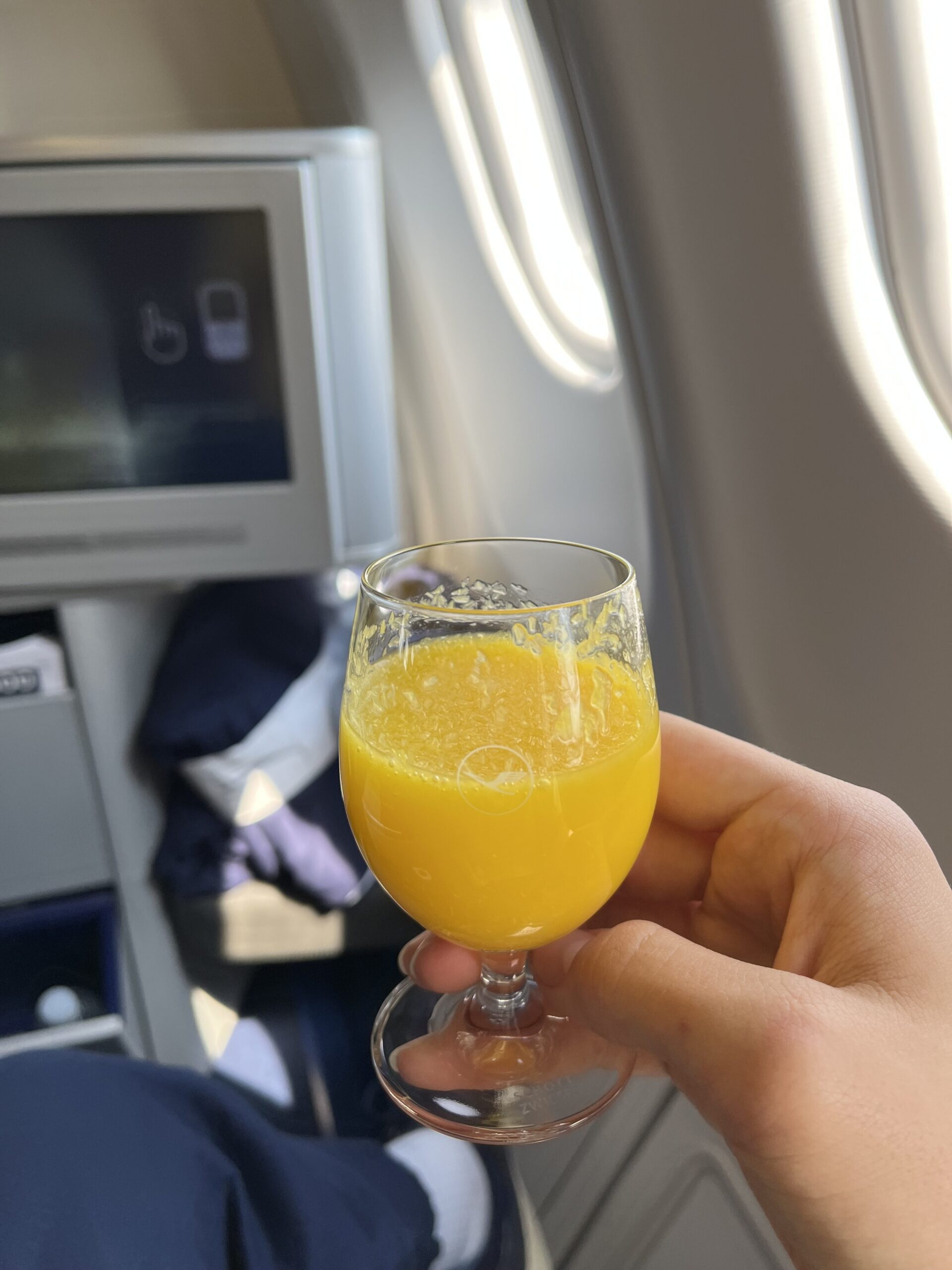 Later, after reaching cruising altitude, the crew served warm nuts accompanied by another drink, and they took our dining orders. I started with the tuna. While I was skeptical of eating raw fish on a plane, I can say that it was actually quite tasty, and I can report back that it is safe to eat.
For my main course, I went with the veal. It was the most apparent option with no gluten, so I chose it despite not being a fan of veal. It was alright, but I preferred the starter.
I wrapped up with an assortment of cheeses and some chocolate before taking a nap for a few hours. I woke up just in time for sunset and the next meal service.
This meal had two options, either a cold beef option or a warm pasta option. I went with the beef for obvious reasons, and it was good despite preferring to have had a warm food option before landing. It was served with a yogurt dessert of some sort as well. Another drink service and a bread basket accompanied this meal.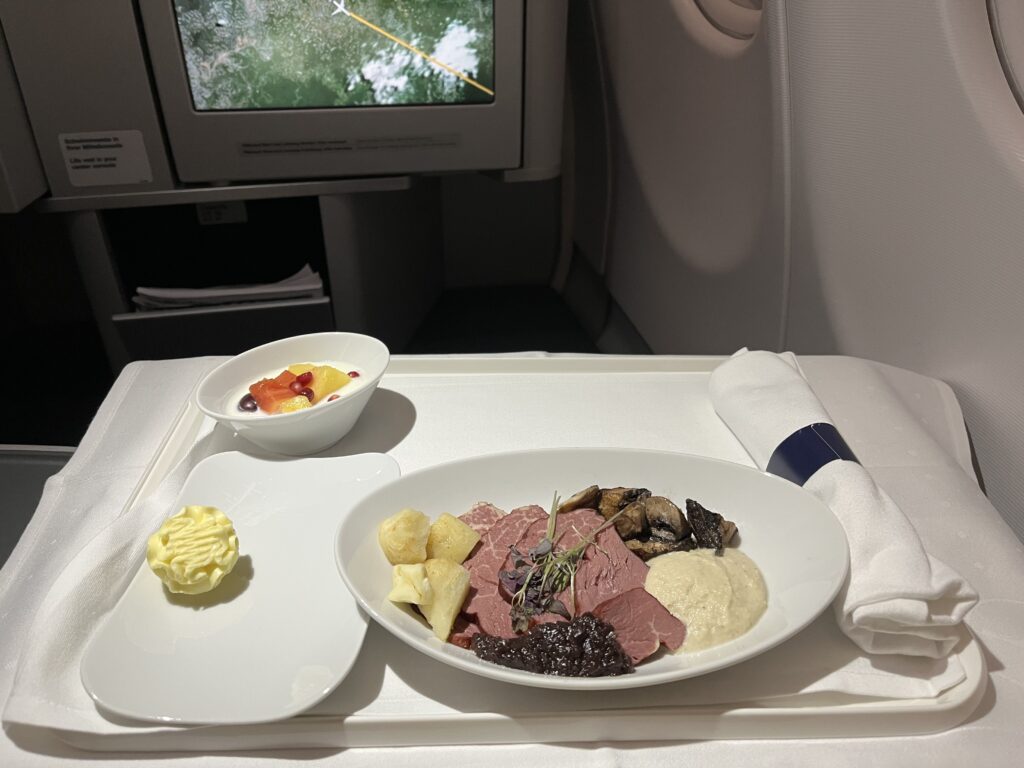 Lufthansa Business Class Service
The crew was incredibly friendly and helpful, some of the best service I have received from a European airline. I felt they tried to personalize it as much as possible rather than a more robotic service.
I had a nice chat with one of the flight attendants about her job and the typical routes she flies.
The crew delayed my initial meal service as I had dosed off, so they were ready to bring my food to me upon awakening. Trying to adapt to the time change quickly, the crew knew to get me a very large bottle by the 3rd time I asked for water, which I greatly appreciated.
The Last Point
Flying Lufthansa A330 Business Class FRA-NBO was a very comfortable experience that I enjoyed. Although it was not the most modern seat, it was more than comfortable without any neighbors. The lie-flat bed was nice and allowed me to catch up on sleep after my red eye in from Washington.
The service was great, and the food and beverage options were good, despite flight changes (United's) that prevented me from the ability to order a gluten-free meal.
Overall, I would gladly recommend Lufthansa A330 business class, especially if you are traveling with a partner or friend to whom you would be happy sitting next to. Next up, flying on the second deck of Lufthana's 747 in business class!
Nonstop Points has partnered with CardRatings for our coverage of credit card products. Nonstop Points and CardRatings may receive a commission from card issuers. Opinions, reviews, analyses & recommendations are the author's alone, and have not been reviewed, endorsed or approved by any of these entities. This post may contain affiliate links; please read our advertiser disclosure for more information