Nonstop Points has partnered with CardRatings for our coverage of credit card products. Nonstop Points and CardRatings may receive a commission from card issuers. Opinions, reviews, analyses & recommendations are the author's alone, and have not been reviewed, endorsed or approved by any of these entities. This post may contain affiliate links; please read our advertiser disclosure for more information
Whenever I get the opportunity to fly on a plane, I am on cloud nine regardless of what cabin I am flying in. However, when flying in business or first class, I am ecstatic and count down the seconds until my flight. Returning from my recent trip to East Africa, I was fortunate enough to fly Ethiopian B787-8 Cloud Nine Business Class ADD-IAD.
It was an exciting flight, for multiple reasons, including a stop in Lome on the more than 18-hour itinerary from Addis Ababa to Washington, D.C., but more on that in the review below.
This article is part of my Trip Report: Starting Summer in East Africa including:
Review: Ethiopian Cloud Nine B787-8 Business Class ADD-IAD
The Seat
Ehtiopian's B787-8 Cloud Nine Business Class seat is arranged in a 2-2-2 configuration. This is a similar seat design to what United has on some of its 757s and Lufthana's long haul business class product.
I found it to be a comfortable seat with a large, high-quality screen and decent legroom. However, the issue falls on whether or not you have a neighbor. If your neighbor was sleeping and you had a window seat, you would be trapped, and either need to step over them or wait until they woke up to do something, such as go to the bathroom.
Some are not fans of the bright red color of the seats, but I found it to be fun compared to the more common blues and greys.
There is not too much privacy with this seat, which is mostly open to the entire cabin. Regardless, I recommend picking a window seat unless you anticipate needing to get up frequently throughout the flight since it is more private. If you are traveling with a partner, then this seat is excellent.
Upon boarding, the seat was left with a pillow and blanket, which happened to be green, making the seat a fun, Christmas-like color combination. After boarding, amenity kits and water bottles were brought throughout the cabin. Additionally, after boarding again in Lome, we received more amenity kits with fresh blankets.
Food and Beverage
There were three meal services throughout the flight, with plenty of drink services in between. The first meal service was after takeoff in Addis Ababa, which was lunch. The menu was comprehensive and included many Ethiopian options as well as more European selections.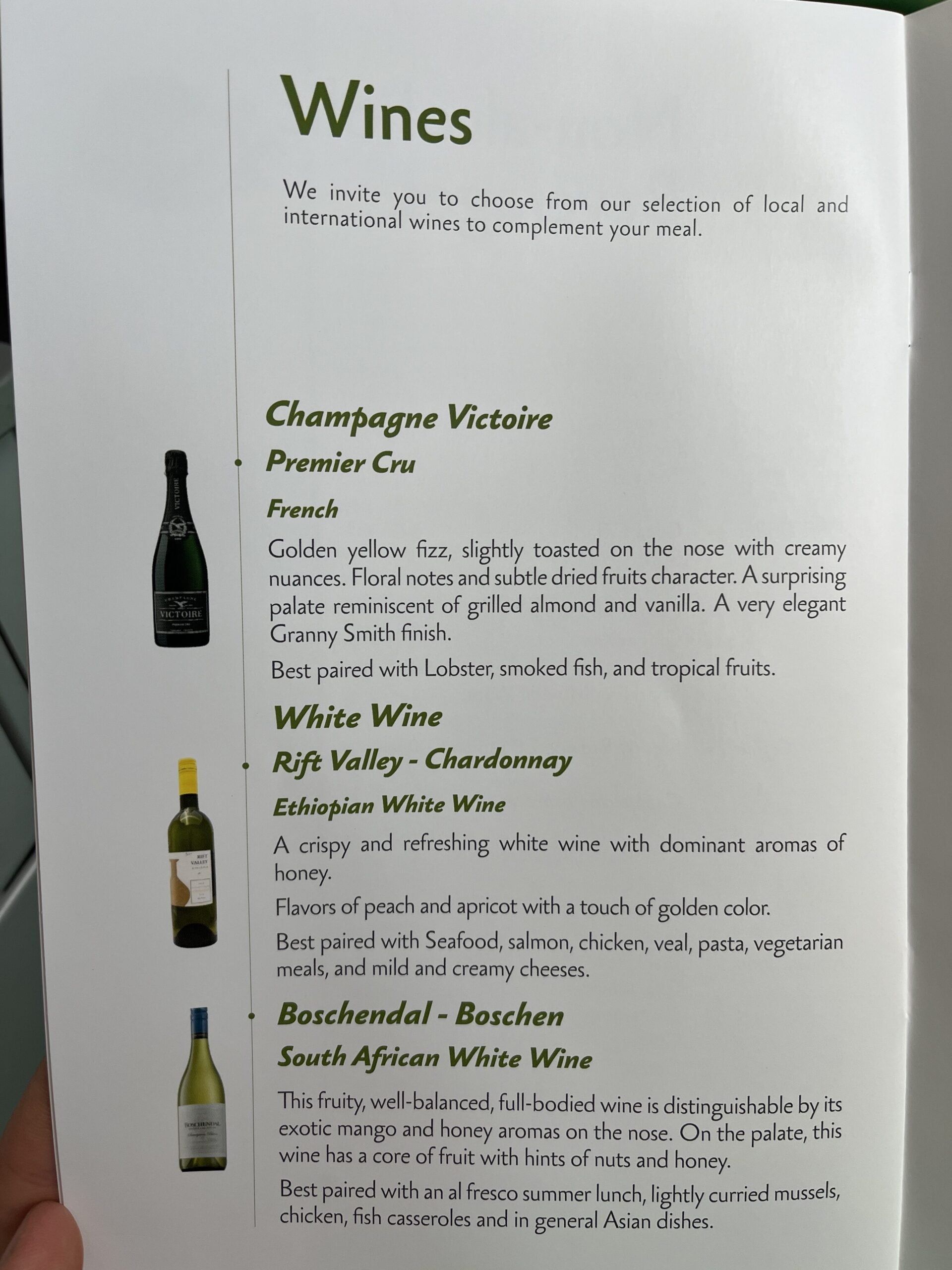 I had some salmon and salad, as well as some beef for the main, which was alright.
However, I got excited when the desert was brought around on a carte. I had some fresh-cut cheese and fruit. I am always a big fan of when the dessert cart prepares your options in front of you.
After dessert, I had some tea with a box of chocolates they brought out.
The second meal service was immediately after takeoff in Lome, an experience I will cover in more depth in a future article. For this meal, I wanted to try out some Ethiopian options. I started with an injera roll appetizer along with a salad.
It was followed by a fantastic course of more Ethiopian cuisine, served directly to the plate. I asked the flight attendant for whatever she recommended, which did not disappoint. While not the most aesthetically pleasing, this was the highlight course of the entire flight. This course was followed by some lamb, which was with rice and chickpeas, but I was already stuffed. The dessert cart was brought around again.
Finally, the last and brief meal service occurred just a bit before landing. It was a kale sponge stuffed with meat and cottage cheese, and to be frank, I was not a fan. The crew then served some lamb kebabs. 
The drink selection on board was vast, including champagnes, a selection of wines including different dessert wines, and other alcoholic options. Of course, there was an extensive selection of juices, coffees, and teas.
Service
The service is definitely what shined the brightest about this flight. The crew was fantastic, to say the least.
Everything from discussing their experiences from living in Addis Ababa to traveling the world and past experiences visiting D.C. was excellent rather than the more robotic service some other airlines have. It was nice to be served directly on the tray table rather than by a tray, which impressed me. 
The flight attendants were excited and invested in my sampling of different Ethiopian cuisines, which was an enjoyable experience. Also, whenever I finished a dish, the crew was on top of clearing empty dishes at an impressive speed.
Further, even in the bathrooms, there was always a toilet seat liner, a nice touch I have only seen from first-class products.
Overall, a fantastic crew, which was the highlight of the flight.
Booking Ethiopian B787-8 Cloud Nine Business Class ADD-IAD
This flight was purchased as part of my round-trip award ticket to Africa. The Star Alliance award included flights on Lufthansa (and what was supposed to be United) booked by ANA.
I booked this flight for a roundtrip price of 104,000 miles and $170 as my returning home segment. It also included a flight from Kilimanjaro, Tanzania, to Addis Ababa two days before my U.S.-bound departure.
Effectively this ticket was about 52,000 miles for 18 hours in business class, which is a great deal by any means. For this price, you do need to book a round trip.
The Last Point
I was unsure how I would feel about my flight after spending over 18 hours on Ethiopian B787-8 Cloud Nine Business Class ADD-IAD, spending a long time on one product. The stop in Lome went smoothly, but more on that in a future article.
Despite not having the most competitive seat, my flight back to Washington, D.C., was terrific. The crew went above and beyond, with some of the highest qualities of service I have seen, and the food was also solid.
I would not hesitate to recommend this flight to anyone flying back from Eastern Africa, as the connection in Addis Ababa often makes a lot of sense.
What has your experience been flying Ethiopian Airlines? Comment below!
Nonstop Points has partnered with CardRatings for our coverage of credit card products. Nonstop Points and CardRatings may receive a commission from card issuers. Opinions, reviews, analyses & recommendations are the author's alone, and have not been reviewed, endorsed or approved by any of these entities. This post may contain affiliate links; please read our advertiser disclosure for more information